Quick Facts:
Country/region visited: Finland, Puumala, Lake Saimaa. The area is one of the most beautiful places in Southern Finland. Indeed, Puumala municipality is one enormous labyrinth-like archipelago with hundreds of islands and myriad waterways perfect for lake kayaking. The area is dominated by granite rocks rising from the water, sandy beaches, and esker ridges formed by the last ice-age. You will definitely like it!
Type: Guided Tour
Start/end: Helsinki (City Centre, Helsinki International Airport, or any other pick-up point.
Duration: 2 days/2 nights
Suitability: This trip is mainly focusing of kayaking on Lake Saimaa. At least some previous kayaking experience is required, but all kayaks and the gear are provided by Adverento Travel. This trip is also highly recommended for kayaking clubs with serious paddlers. The length and duration of the kayaking trip on Saturday is subject to weather conditions, but is always longer than eight hours and 25 km.
Itinerary in short:
Day 1 (Friday): Helsinki – Puumala, Lake Saimaa, travel by private minibus
Day 2 (Saturday): All day kayaking, Puumala, Lake Saimaa
Day 3 (Sunday): Puumala – Helsinki, travel by private minibus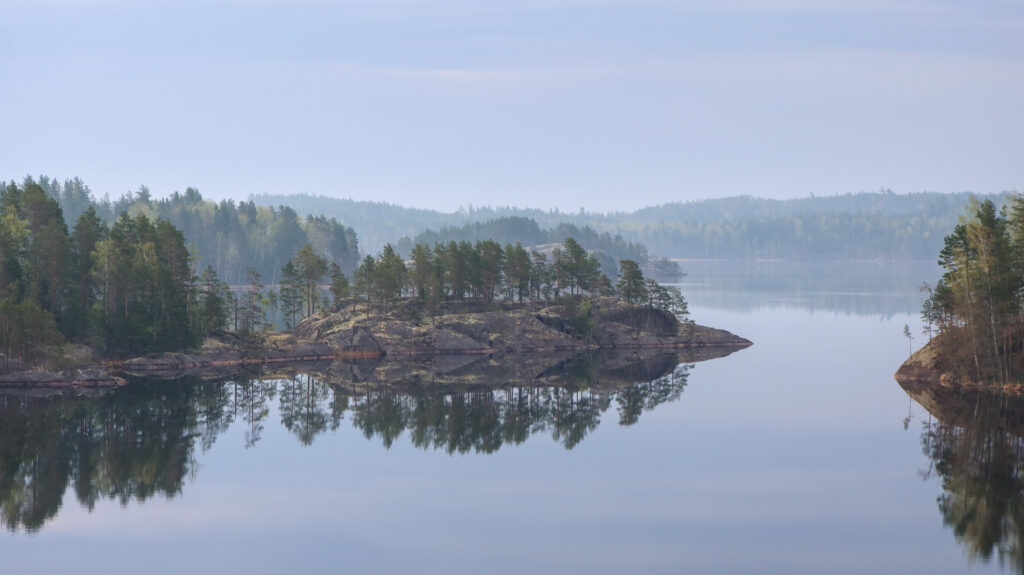 Detailed Itinerary:
Day 1 (Friday): Helsinki – Puumala, Lake Saimaa, travel by private minibus
Meet your guide and driver in Helsinki and join the group at 16:00 in the afternoon. Sit back and enjoy the scenic drive from Helsinki to Lake Saimaa area. We make a couple of stops on the way and arrive in Puumala at 20:00 in the evening. Have a dinner and stay overnight in a traditional Finnish summer cottage or beach resort.
Day 2 (Saturday): Kayaking in Puumala, Lake Saimaa
We set off early to make the most of our day kayaking in some of the finest lake kayaking locations in Finland. We launch kayaks and paddle in a group. During the day, we see extremely beautiful Finnish lake views and scenery. The flora and fauna are rich, and it is even possible to spot a very rare Saimaa ringed seal. The water in the lake is exceptionally clean and the air is perfectly fresh. The lunch is a picnic lunch on the beach, and the kayaking continues until early evening. Later in the evening it is possible to go swimming and to enjoy a traditional Finnish sauna. The Finnish sauna culture was recently added to UNESCO's Representative List of the Intangible Cultural Heritage of Humanity, so it is not just an ordinary shower or bath after a hard day's kayaking! Also, we gather for a barbeque in the evening and spend the night in a cabin by the beach. Alternatively, you can sleep in a tentsile or hammock, if you want.
Day 3 (Sunday): Kayaking in Puumala, Lake Saimaa – Return to Helsinki, travel by private minibus
After a night in a cabin or in a tentsile, we go for another kayaking trip this morning. Today's kayaking tour is shorter than yesterday's, but we still can enjoy incredibly good kayaking and beautiful views. At noon, we get back to our accommodation and start our return journey to Helsinki by minibus. Today, we take a different route to Helsinki via Imatra, Lappeenranta and Porvoo. The lunch is served en route. We arrive in Helsinki at 17:00 in the afternoon.